Perk up Your Promotions With These 6 Coffee Products
Coffee enthusiasts will love these promotional products that look like they're straight from the coffee shop! Millions of people drink coffee and tea every day, even multiple times a day which means they'll be seeing your logo on a regular basis. Your branding will be displayed whenever a client or colleague needs a caffeine boost in the office or at home.


Coffee Mug With Spoon



Stir things up with this ceramic mug and matching spoon! Your customers will want to keep this close by so they can easily enjoy everything from hot chocolate to a cup of soup. You'll warm your customers' hands and hearts when they reach for this mug first thing in the morning.


Single Cup Coffee



Single cup coffee has become incredibly popular in the past ten years and many people have a single cup coffee maker at either their home or office. These customizable pods are a great way to provide your customers with their favorite flavors in a single serving size. They'll instantly be thinking about your brand when they pour that first cup of joe.



Beverage Wrap


You've seen these beverage wraps customized for coffee shops before, but they are also great for any event that serves coffee! Simply slip a wrap onto a paper cup to make it easier to carry, help keep your drink insulated, and protect your customer's hands from hot paper cups. These printed coffee sleeves are extremely popular for schools, restaurants, sporting events, festivals, and retail shops.



Travel Mug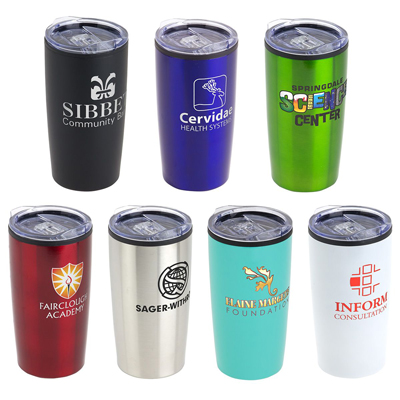 Everyone is always on the go these days, so give your customers an on-the-go travel mug that keeps hot drinks hot and cold drinks cold! No matter what they're schedule is, they can take their drinks to the gym, the office, or in the car with these vacuum insulated mugs that fit easily in their hand or in the cup holder.


French Press


Settle the debate on whether French press coffee actually tastes better with these custom French press coffee makers! This compact version is small enough for your clients to keep on their desk, and large enough to make two cups of coffee. They can also use it to make loose leaf tea if they're trying to cut back on the caffeine intake.


Reusable Straw



Reusable straws are not only good for the environment, but they're also a great client gift! One of the hottest promotional items right now, these stainless-steel straws are great at tradeshows, product launches, or corporate events. Customers will be using them for years since they're built to last and help reduce their environmental impact.



Want to see more products for coffee lovers? We've got products like these and thousands more! Contact us today to get started.
---
Category: Promotional Product Ideas
Tags: Promotional Product Ideas, Branding, Marketing, Product Inspiration, Coffee, Caffeine, Coffee Shop, Mug, Single Serve, French Press, Drinkware, Travel Mug, Reusable Straw, Thermos, Coffee Pod, Drink